The textile industry is the world's largest industry. Of the total volume, wool production constitutes about 0,9%. GU is a niche producer and naturally constitutes a small part of this.
Today in Norway, we have just under 1 million winter fed sheep and 1.5 million lambs. The wool industry in Norway produces a total of 4000 tonnes of wool a year.
At GU, we make use of what we can obtain from Norwegian wool of the highest quality that is most suitable for use in our products. Today we use wool of about 120,000 sheep per year.
Norwegian wool is considered to be of high quality and all Norwegian wool is therefore traded and used. The Norwegian wool is relatively coarse, resilient and robust and is suitable for use in yarns for knitting and weaving. This can be used in yarns for hand or machine knitting or weaving of blankets, bunad and upholstery fabric.
It is important to note that there are many different types of wool with different properties from wool manufacturers around the world. Different wool types are suitable for different types of products. We can achieve particularly durable, robust and resilient furniture and bunad fabrics from the Norwegian wool type. We cannot achieve this with, for example, Australian Merino wool which is suitable for use in, for example, our woolen underwear.

There is not enough Norwegian wool of the highest quality to meet our needs. We must therefore also base our production on robust wool from New Zealand. New Zealand wool is of the same type as the Norwegian, high quality but cleaner. The Norwegian sheep graze freely in the summer and attract vegetable debris in their fleece, which is a challenge for us.   In New Zealand, the sheep graze on cultivated pastures and the wool is therefore usually cleaner than the Norwegian.  Moreover, the Norwegian wool is somewhat yellower with a solid resilience.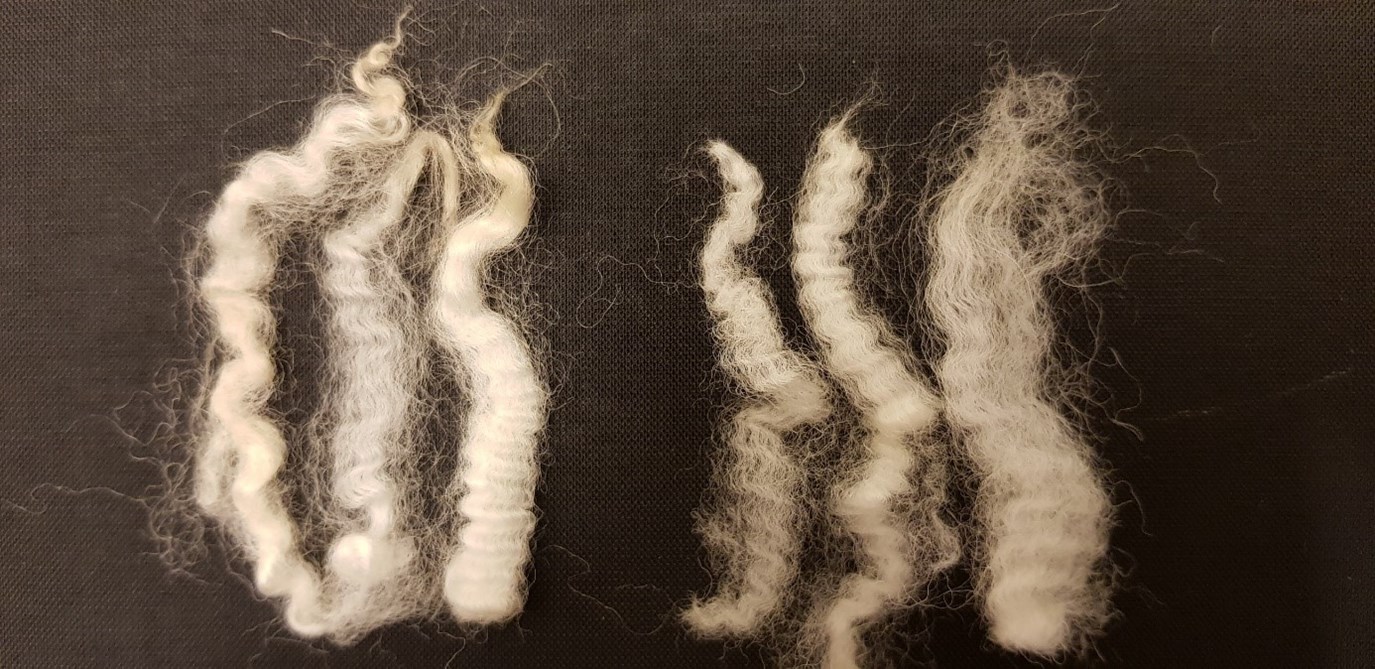 Same type of wool. Norwegian wool (left) and wool from New Zealand (right). Photo: GU
The Norwegian wool has a great environmental advantage over wool from warmer regions. Our cool climate means that the chemical treatment of the wool on the sheep is not very relevant. Pesticides are generally not used in Norwegian agriculture. The Norwegian sheep farm is based on grazing in outdoor areas where no kind of pesticides are used.

The Norwegian wool is marked with the eco-label  "Swan" which is important for our production of eco-labelled products. Many of our products are environmentally certified with the European eco-label "EU-Ecolabel" (the "EU Flower") which corresponds to the Nordic Swan label.
We talk about locally sourced raw material in practice. Wool from the Norwegian sheep is processed further into yarn before it is woven, dyed and finished for upholstery fabrics and bunad fabric in our factory in Lillehammer.
We prioritize Norwegian wool for the bunad qualities where the Norwegian type is appropriate to use. Our plain weave  - the pile fabric - is made of 100% Norwegian wool. It is the finest, robust and most resilient, but not necessarily the softest. The elasticity of the wool means that the bunad drapes well and that it does not curl in use. A finer wool could provide a softer fabric, but without this resilience and robustness that is so important to the performance of the bunad. For this reason, we declare that GU makes the Norwegian bunad even more Norwegian!

We also prioritize Norwegian wool in the furniture fabric qualities of Sirdal, Setesdal and Suldal. Besides these designs, some Norwegian wool is used in our production together with wool from New Zealand.

We stopped using Norwegian wool in the 1960s. This was because there was too little focus on quality, cleanliness and the highest quality was not sorted out for our use.  That we can now use Norwegian wool is a result of a good cooperation with Norilia who handles most of the Norwegian wool. At this time there is more focus on quality, breeding and sorting of the finest wool qualities. As a result, the best wool qualities are processed in Norway again.

The price of wool is, more or less, similar around the world. Wool is traded on the commodities exchange and the price is basically the same for wool from New Zealand as from Norway. The Norwegian farmers receive a higher price than the market price. This is part of the Norwegian agricultural policy. We subsidize Norwegian sheep farmers because we want to encourage Norwegian settlements and a dynamic sheep industry. The Norwegian sheep are also important for the care of the Norwegian cultural landscape.

We use Norwegian wool in the furniture fabrics Sirdal, Setesdal, Suldal, Odal, Hemsedal and Heddal. Further, we use a lot of Norwegian wool in the production of the mélange colors found in the furniture fabrics Amdal, Bardal, Ledal and Morgedal.

Today, Norwegian wool constitutes approx. 60% of the total amount of wool we use in our production.

We have a desire to use more Norwegian wool in the future. Our good cooperation with Norilia has opened up for more use of Norwegian wool. Quality and availability are key words. Wool must be as clean as possible from vegetable impurities such as seeds, twigs and debris. There can be no wool with black hair or dead hair. We are totally dependent on access to the best wool.  This can be ensured by good sorting thus insuring that the best wool can be processed in Norway. In addition, we are dependent on building even more awareness and pride among Norwegian sheep farmers to deliver more wool of the best quality. Wool quality must also be an important criterion in sheep breeding

We are proud that we can utilize as much Norwegian wool in our production today and hope that this can also be strengthened in the future.